We're Your Dallas Fort Worth Mobile Dentist
Getting quality, comprehensive dental care from the comfort of your own home has never been easier!
Book Your Mobile Visit
Text or call us at (817) 823-1611 or email us to book your mobile dentist appointment.
We Come to You
Our experienced mobile dentist Dr. Treviño will come to you for your dental appointment.
Gentle Care
We offer comprehensive mobile dentistry and always focus on being gentle.
Insurance & Fees
All of our services are priced competitively and many of our services are reimbursed by popular insurance plans.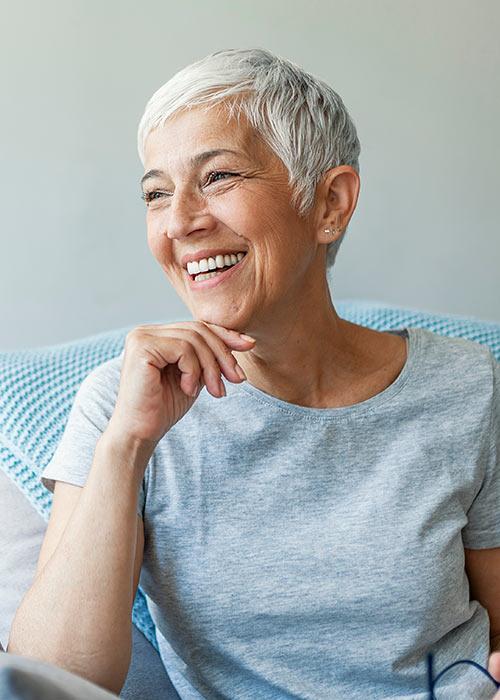 Dental Fillings Dallas, TX
We'll help you repair cavities and restore your mouth to full function. We always focus on gentle and compassionate care.
Composite fillings are made of a unique tooth-colored resin, specifically designed to blend in with the rest of your mouth. They are a significantly safer, more durable, and aesthetically appealing alternative to mercury amalgam fillings.
Glass ionomer fillings are particularly beneficial in geriatric mobile dentistry. Dr. Treviño uses glass ionomers to help keep areas of root decay sealed and free from cavities.  Glass ionomers help recharge the tooth with the components that keep it strong.
Key Benefits:
Matches tooth color
Durable and long lasting
Can repair cracks, gaps, and chips as well as cavities
Remineralizes and helps recharge the teeth to make them stronger
Additional Information
After using a local anesthetic to numb, we prepare the tooth and make sure we get rid of any cavity.  Then we either use composite or a glass ionomer to fill the tooth and restore it to proper form and function.
FAQ:
How long do fillings last for?
This longevity of fillings depends on a lot of factors.  This includes which tooth is affected, where on the tooth is the problem, how large is the filling that is going to be placed, how strong you bite, etc.  Dr. Treviño will be able to give you an idea of how long a particular filling may last at the time of your appointment.
Why should I get composite fillings instead of traditional or mercury fillings?
Traditional or mercury fillings can be harmful to your body. Additionally, traditional fillings must be fully replaced if they crack while composite fillings can be repaired. Most people also think that composite fillings are more aesthetically pleasing than other metal fillings.
Is a filling better than a crown?
A filling it something completely different than a crown.  A filling is for small cavities but a crown is usually recommended for larger cavities or cracked teeth.  Dr. Treviño will visually and radiographically assess your teeth and educate you on which option is best.
Thank You to All of Our Patients!
We've helped thousands in the DFW area achieve a beautiful, healthy smile! Thank you to all of our patients who have taken the time to refer a friend and write a review.
Our Mission
We provide onsite dental care to those who are unable or prefer not to visit the dentist in a traditional office setting. We also strive to educate the patient and family on the importance of being proactive because complacency can quickly lead to loss of teeth and function.